Dog Interrupts Owner's Live Weather Broadcast
By Stephen M August 19, 2021
---
We all love to have our pets around us. We love to cuddle, show them love and give them nice treats, to make them happy. But this is not when we are working, especially during a live broadcast.
This was the fate of Global Toronto meteorologist Anthony Farnell whose dog suddenly appeared from nowhere to interrupt his live weather report.
Global News Toronto viewers had their weather report interrupted by an adorable Goldendoodle owned by the weather reporter.
Anthony was in the middle of his report when his fluffy dog, Storm, showed up to keep his owner company. The dog became the spotlight of the report that night.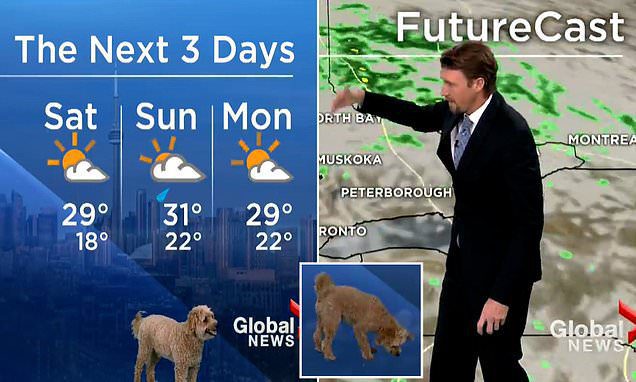 In a viral video shared by Global New, you can see Storm appearing in and out of the green screen. He pauses intermittently to enjoy a treat close to the weather map. Farnell had this to say after the report: Yes, Storm is in the building, having some nice treats, walking on thin air.
Storm made his first Global News appearance in 2012 during the evening news.
Viewers on the other side loved the act of the dog. Some of them had this to say as the video was posted on YouTube.
"What a good boy. He doesn't really interrupt him, just watches his owner and checks out the scene."
"It is the dog days of August after all," another viewer said.
Storm seems to have earned a job after that showoff. He is now a member of the news team, considering a caption on the viral video which states, "You can watch Anthony, Storm and the rest of the Global Toronto team weekdays at 5:30 and 6:00 eastern time."