Footage Duck Family Checking Out Of University's Library
By Stephen M September 16, 2021
---
It is very typical to lose your way sometimes, especially when you are new to an area. However, this becomes big news when you find yourself in an unusual or unexpected place. After losing their way, a duck and its ducklings have gone viral for finding themselves at the University of Nottingham's George Green Library. Footage of the event shows the ducks leaving the library.
The five ducklings and their mother ended up in the university's library through an opened door after losing their way.  Staff and students who witnessed the event were shocked and amazed as it was unusual.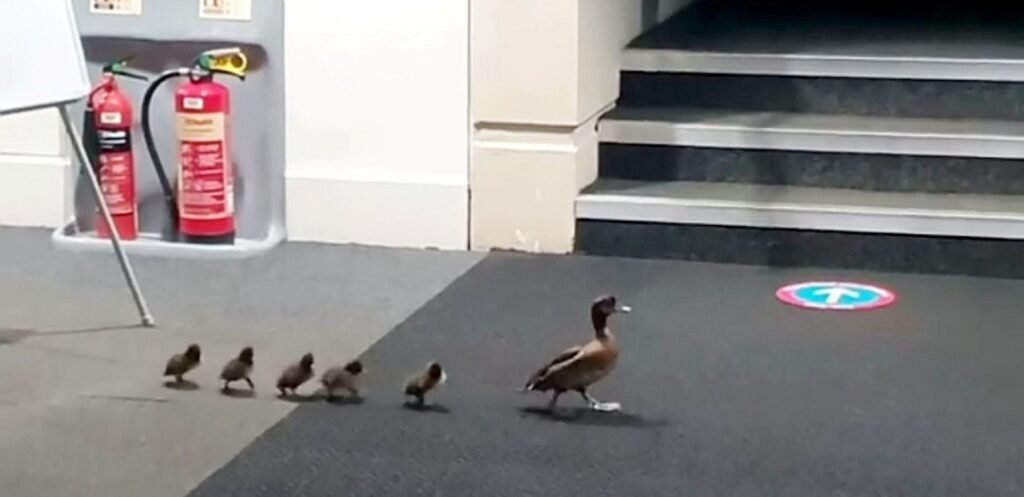 Staff from the University of Nottingham Libraries, Emma Halford-Busby, said the due to the hot weather condition that week, they decided to open the library doors for proper air circulation. According to her, the ducklings walked in with their mother leading them and looked unperturbed. They gently walked around the atrium for few minutes like a librarian taking stock of the books.
Emma indicated that it is common to see ducks around the campus; however, she has never encountered one in the library. Seeing ducks here was the oddest thing she's seen, she said. Nonetheless, the scene created some excitement among the people present, she added.
In the footage, you could see the ducks checking out of the library, passed under the security barrier, and made it into their pond. A staff ushered them out through the gate.
In a social media comment, a student who witnessed the event said it was adorable to see the birds.