Jimmy Fallon Asked His Crowd For Summer Job Stories That They Regretted
By Ish B June 30, 2022
---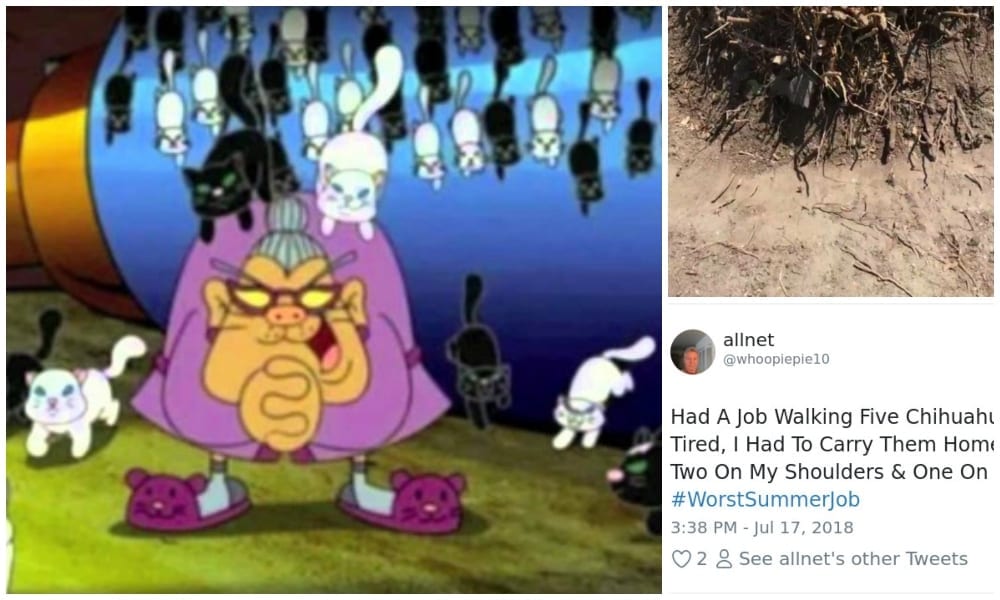 Summer, the season that some people enjoy the most because of the warm weather and time spent outdoors. How you don't have to think of the cold winter months because of the sand in your hair. Summer is a wonderful time to do all the things you've wanted to like surf, skate or even try a new sport. If you're stuck at home during summer, now's a great time to get a summer job. These people who had summer jobs though, aren't enjoying it that much. Jimmy Falon asked the Twitter world for the worst experiences people had in their summer jobs. Some stories will make you cringe, feel grossed out, or even feel super relieved that you weren't them. From having bad bosses to slipping up and making mistakes, these people got the shorter end of the stick during their summer jobs.
Motel California
Being a teenager means usually going for jobs where you don't need much experience. You don't truly need 4+ years of experience with your summer job since it's just a short-term one. Leslie didn't care too much what she job she ended up in, but she should have.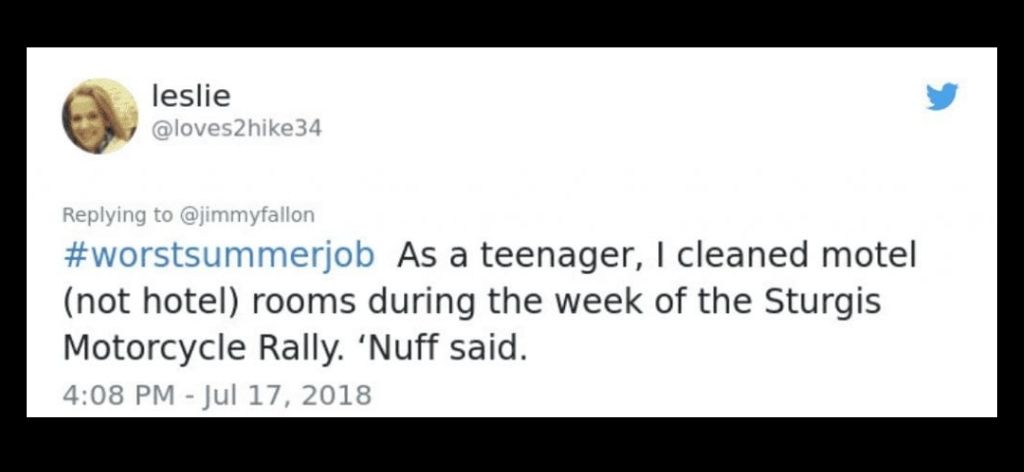 Cleaning motel rooms was part of her work, and in no way was it glamorous. She was cleaning during the week of a Motorcycle rally, and you can only imagine what that's like. A bunch of sweaty men gearing up for a motorcycle rally, now that sounds like a huge mess.
Camp Oh No
Camping is a great way to have meaningful interactions with people. To go outside your comfort zone and meet new friends. But Margot got the reality of all her nightmares rolled into one porter potty. A kid got stuck in one.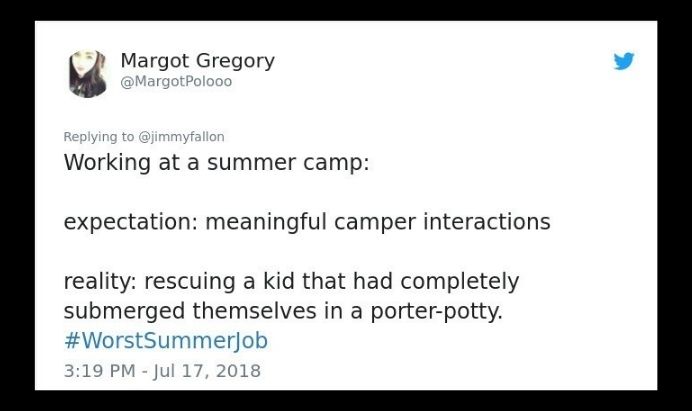 This is nothing new; kids get into all sorts of messes. But come on, how does that even happen? Kids can be a handful, and others can be fairly normal and well-behaved. This camp sounds like a nightmare camp, and it's best to work somewhere else. #notocampjobs
Aunt Knows
Making money and studying can be really hard to do at the same time. Yet, many young people do just that to support their lifestyles. Budgets need to be stuck to, especially when you have rent, and a dog, everything adds up. Making money and studying can be challenging to juggle.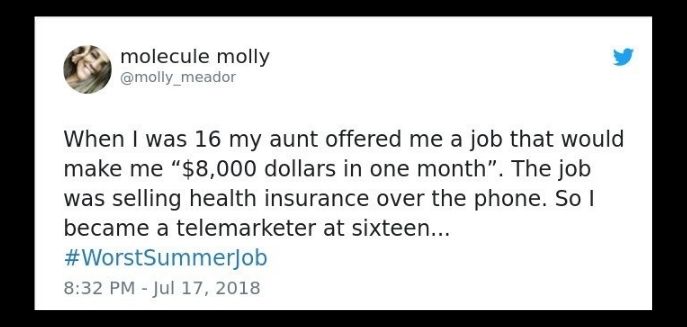 Yet, many young people need to hold down jobs while studying, especially if they're starving artists. Making smart decisions beforehand is super important in the long run. Molly's aunt knew how to help her earn money, but she did it without even knowing. This is a summer job gain, in our opinion. Getting ready for the real world at a young age!
Plant Killer
Taking care of plants as a summer job should be easy peasy right?? Well, that is an absolute lie because it isn't easy. Especially when you're house sitting 56 plants for two elderly people, they've probably had all the time in the world to water their plants. The only problem here now is that some didn't make it.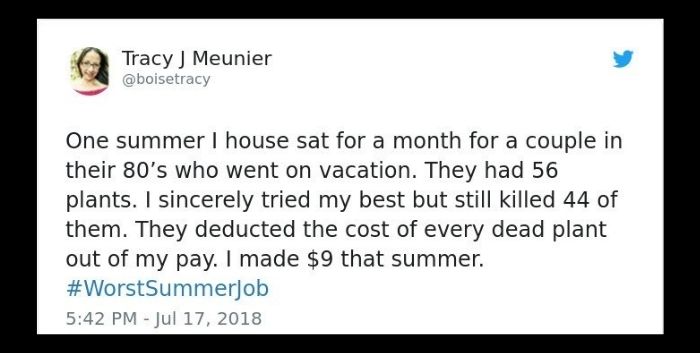 Plants can be susceptible and need to be monitored closely. If they're not taken care of, they can die. Forty-four of them died that day, and her boss deducted money from her pay for each dead plant, leaving her with a very unimpressive salary of USD 9. That really sucks. She obviously doesn't have green thumbs or a way with plants.
Feeling Batty
Being away from civilization and closed off to work away from people can be challenging. Michael took on the role of a hermit and retreated to a coal mine to work as a security guard. He'd sit in his truck in the cold evenings and be all alone.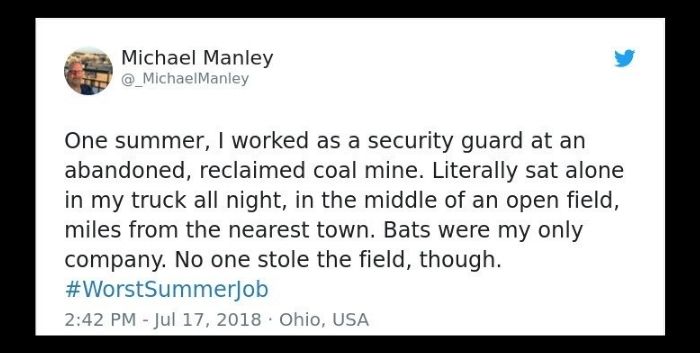 Weeks on end of endless solitude where his only friends were bats. For introverts, this is a dream, being away from people and working on yourself and your job. He could use all this time to meditate or read a good book. It doesn't sound all that bad!
Fake Vegetarian
Vegetarianism is booming nowadays, thanks to more people being better aware of their carbon footprints and the effects that our actions have on the climate. Eating meat is known to be harmful to the environment, and more people are becoming eco-conscious warriors.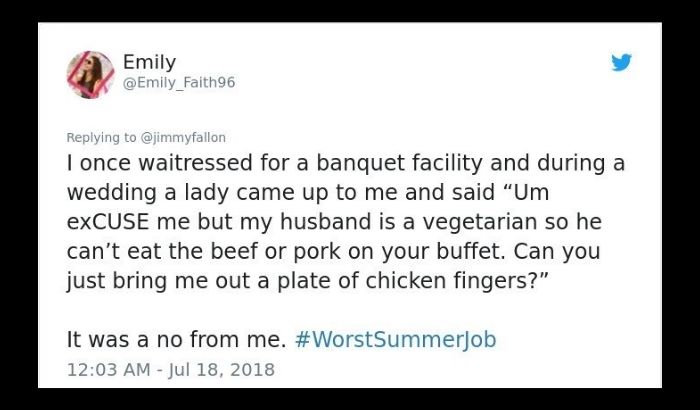 A lady at a banquet hall Emily was working in thought that chicken is considered vegetarian. Some people aren't fully aware that vegetarian means solely eating veggies and some dairy products. She should've asked for vegan chicken fingers with a vegan mayo dip instead. Yum, now we're hungry.
Crab Graveyard
Crabs are some of the tastiest delicacies to eat, especially when you eat them fresh in their shell or doused in lemon. However, Hermit crabs are mostly kept by people as pets and not bought for their appeal on a plate, which according to those in the know, is not that good.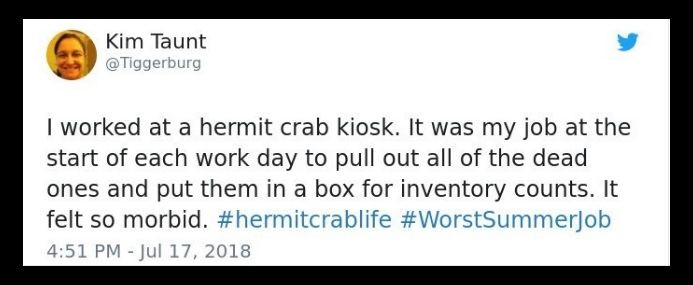 Someone's in the back of the "pet-crab" stand, making sure that you're getting the liveliest possible crabs. Kim's one of those people who had to make sure all the dead crabs were removed since no one wants to see that when choosing a new animal to add to their collection of unusual pets. She talks about her job like it was a horror movie. If it were a flick on TV, it would be called: "The Hermit Crab Graveyard Shift."
Ice Cream Scooper
It's ironic how this girl's name is Sugar, and she ended up scooping ice cream on the Myrtle Beach Strip. Myrtle Beach is an awesome place to work if you love the sun, sand, and being around people. It's a fun place to be for the youngins.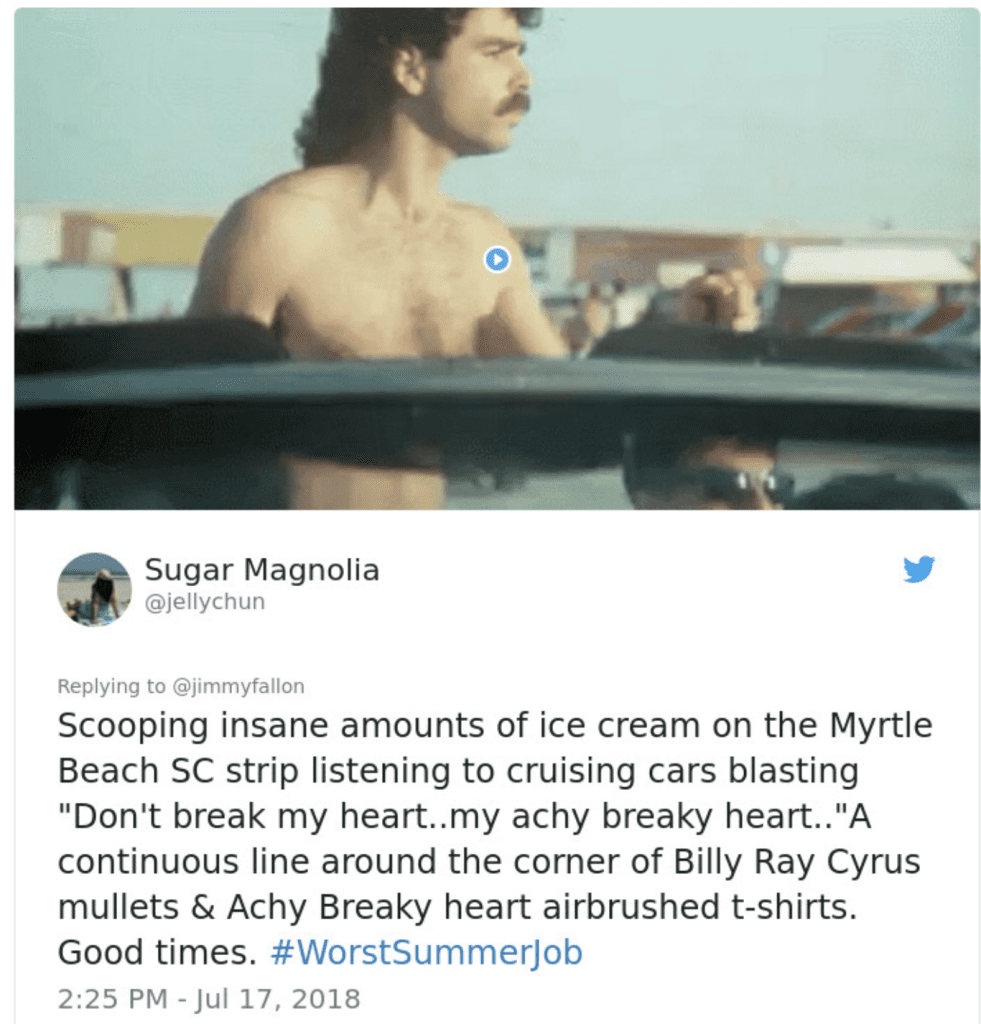 This place is best visited from June to August if you want to sample one of the best beaches. Its boardwalk is dotted with food stalls, arcades, and a variety of restaurants. Getting a summer job is usually easily found and seasonal.
Scary Kids
Collins delved into the complicated world of being a nanny. It isn't easy taking care of kids, and it's a challenging pace. Navigating through the world of children and their minds is no easy place. When he said no to the kid once, he was literally attacked with a knife.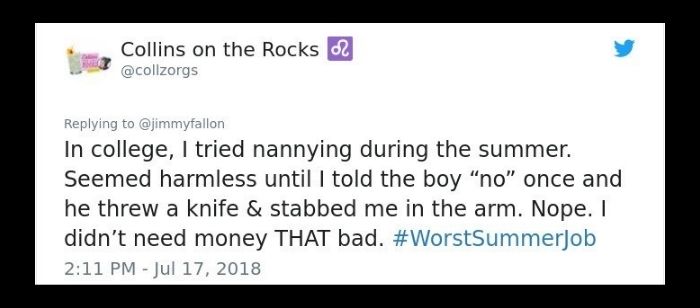 He threw the knife at him, injuring him in the process! That kid sounds like he's absolutely nuts. Collins should make sure he has health insurance before he babysits. Kids can get crazy, and taking care of them means being on your toes and hiding all the sharp objects!
Attack of the Crabtree
Getting down and dirty with your hands in the shrubbery is one of the most fun things you can do; it gives you a chance to interact with nature. And, you learn some valuable life skills from plucking and weeding gardens- like perseverance and patience.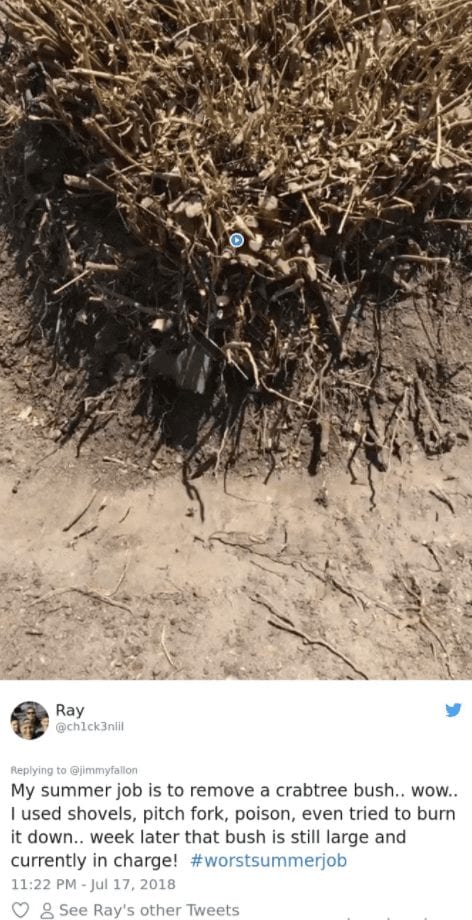 When Ray signed up for his summer job, he thought he was going to have some fun in the sun. But the crabtree bush had other ideas. While they're beautiful in the spring because of their blossoming fruits, they're a mess to clean up once the fruit falls.
Chuck E Cheese
Working at Chuck E Cheese requires so much patience, and it's similar to working at McDonald's. You'll need tremendous patience not to throw a milkshake at anyone. The screaming and yelling usually ensue when kids are around. In this case, it was from the paramedics.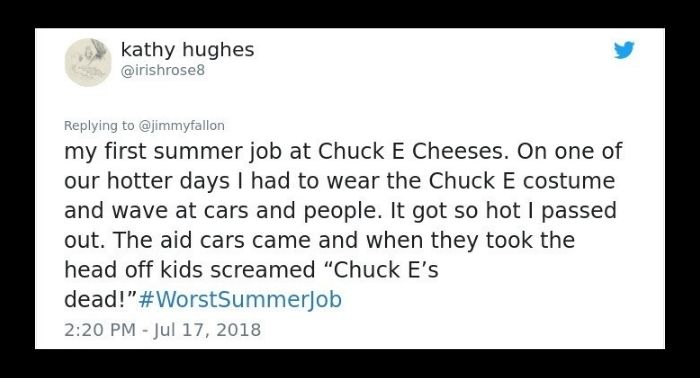 Poor Kathy, she passed out on the sidewalk. She couldn't stand the heat and wasn't able to drink enough water. Kids thought she was dead. What a bad image to project of Chuck E Cheese. Their food is so good you'll pass out from the deliciousness! Someone get her some water.
Sweet Dreams
Taking care of old dogs means that they're living on borrowed time. We don't mean that literally, but sometimes, something unfortunate could happen, just like in Margaret's case. Her job required her to take care of an elderly dog while her neighbors went away on a trip.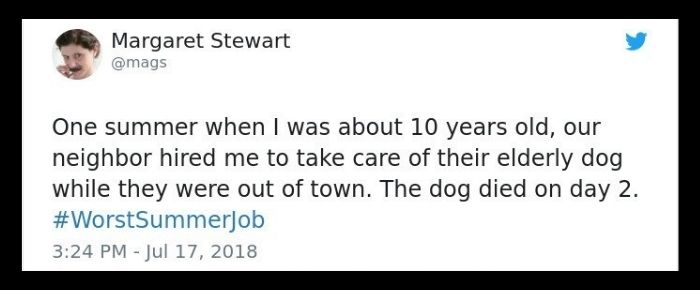 Poor doggy died on the second day with no warning whatsoever. Well, that was a short summer job. It's always sad when dogs pass away; they're just like family. Now Margaret was left with the task o breaking the terrible news to the dog's owners, and left without a job for the summer. We feel bad for everyone involved in this story.
Chihuahua Problems
Taking care of dogs means that you're giving your life to them for a few hours. You're their designated human, and you must guard them with your life. If you don't, their owners will suffer from a heart attack—dog-proof your entire home.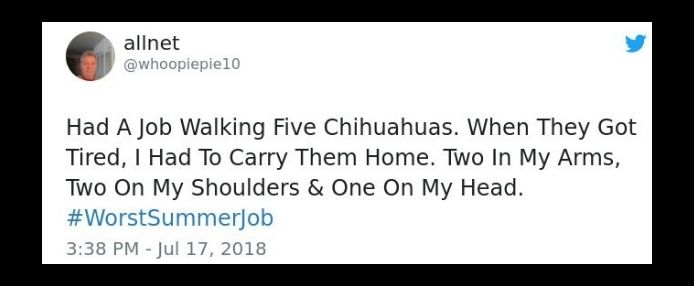 If they get tired, give them a break and a ride on your back. This is the least you could do. After all, you're getting paid for it. Take care of yourself, but take care of the dogs first. This guy had to take care of not one but 5 different chihuahuas at the same time! Good luck, dude.
Sneaky Kids
Why are all these people going for summer jobs that involve kids? They're obviously not thinking this through well enough. Kids can be sneaky, mischievous, and overly-hyper. Make sure to keep them in their place, and don't let them take advantage of you.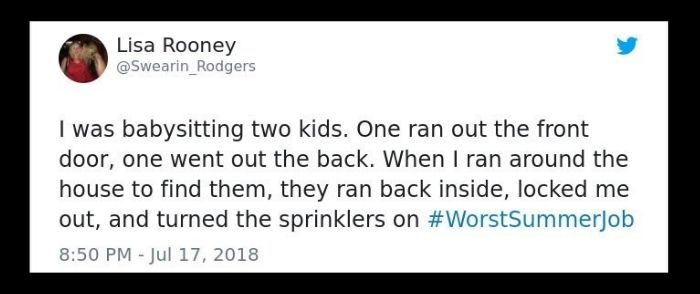 By doing that, they won't respect you and are bound to overstep boundaries. These two kids were messing with Liza when they left her outside to be drenched by the sprinklers. They thought it would be a funny joke. Lisa wasn't laughing. Bless her.
One Subscription for Free
There are many businesses out there that usually ask you to sign up for a subscription so that you can then be able to get freebies or discounts. Some of these places promise significant price reductions, and other places require you to pay more to avail yourself of this service.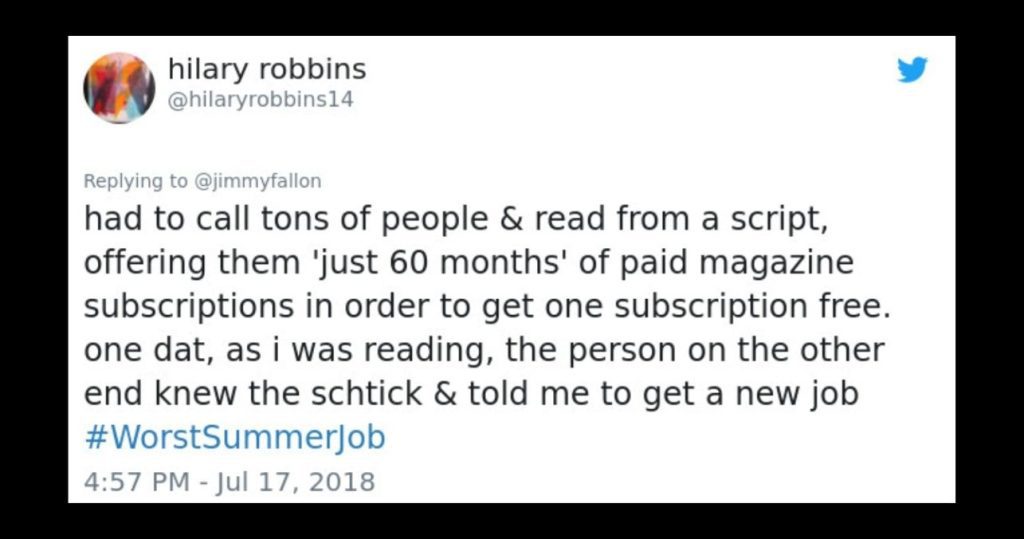 Hilary's worst summer job was asking people to join a 60 months magazine subscription, and only then will the readers get a free subscription. Her readers weren't too happy about the offer, and she felt terrible trying to get new users. Word of advice, don't take jobs that you're uncomfortable doing. Follow your heart always.
Grilled Cheese For Life
Working in the food industry can go both ways; you can either love this job fully or despite it until the end. Jen was in the middle about her job and didn't hate it, nor did she love it. She convinced everyone to order the eggs or grilled cheese since everything else on the menu was too hard to prepare. Her upselling was futile, and she eventually lost the job.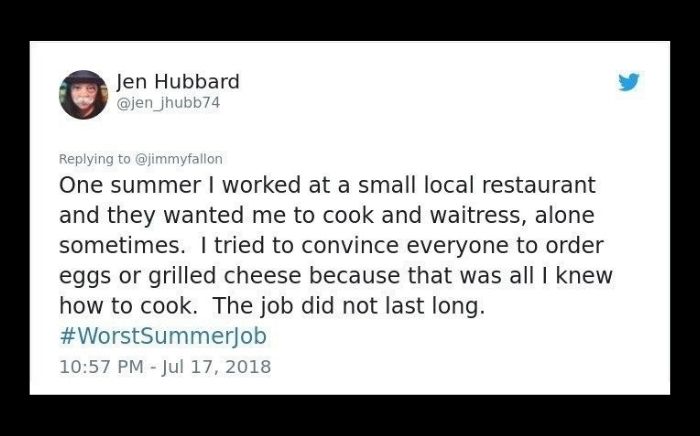 When entering the food business, basic cooking skills are a must so that you know what to convey to the customer and what to prepare. Jen should've chosen a different profession, but hey, she probably made some bomb grilled cheese and eggs.
No Cute Stuff Allowed
For some people, decorating your desk is akin to turning it into your home. You reposition the keyboard, even bring a lovely house plant for your table. It's a whole operation of sorts to make it a comfortable environment for you.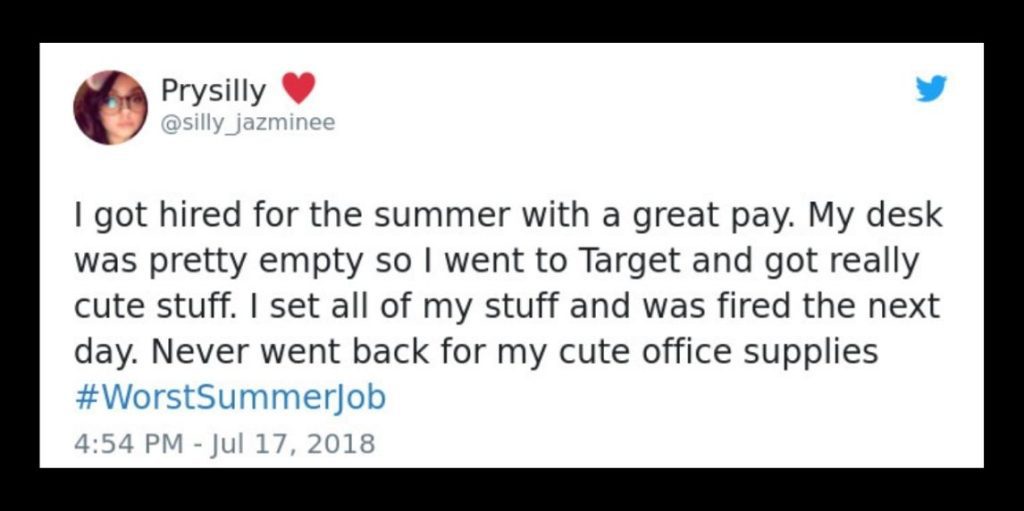 The only problem here is that Jazminee's coworkers weren't pleased with her decorations. She ventured on a trip to Target to buy some cute things for her desk, including office supplies and the sort. The next day, she was fired. This sounds completely unfair but was maybe justified. We can't say for sure without knowing the whole story.
Caught Red Handed
The first days at work are usually challenging and filled with learning curves. It isn't that easy to go to work and hope for the best when you're in an uncomfortable situation. Paul had one of the awful first days we've always feared.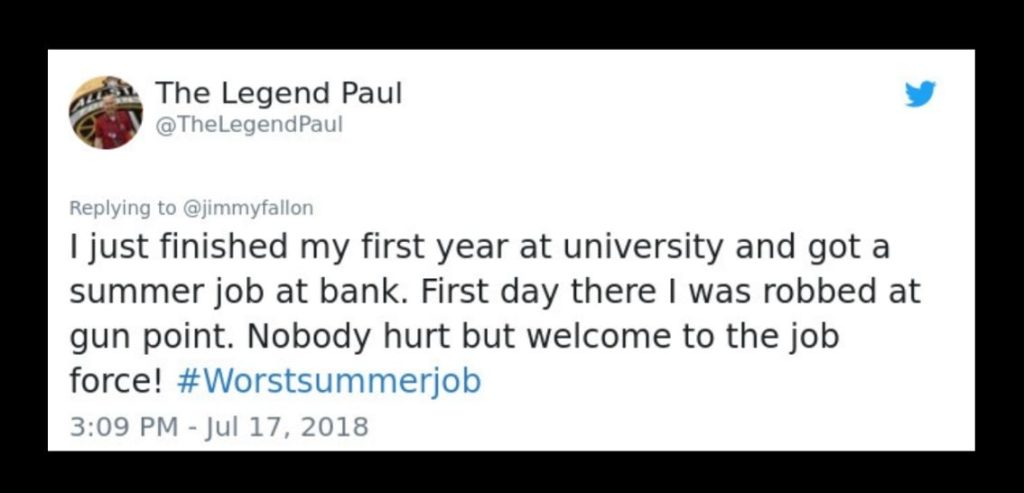 This guy got held at gunpoint! If we could give scores for this article, he gets a solid 10 on the worst summer job scale. When he went home, his parents probably asked how his first day was. He probably replied: "Uhm, I got robbed. But I'm still going back.
Camp Wrongwood
Teaching at a summer camp can be a fun job for many, especially when you get to teach people new skills that you're passionate about. Another plus is you'll also meet great camp counselors to work with since they're probably super out-going just like you.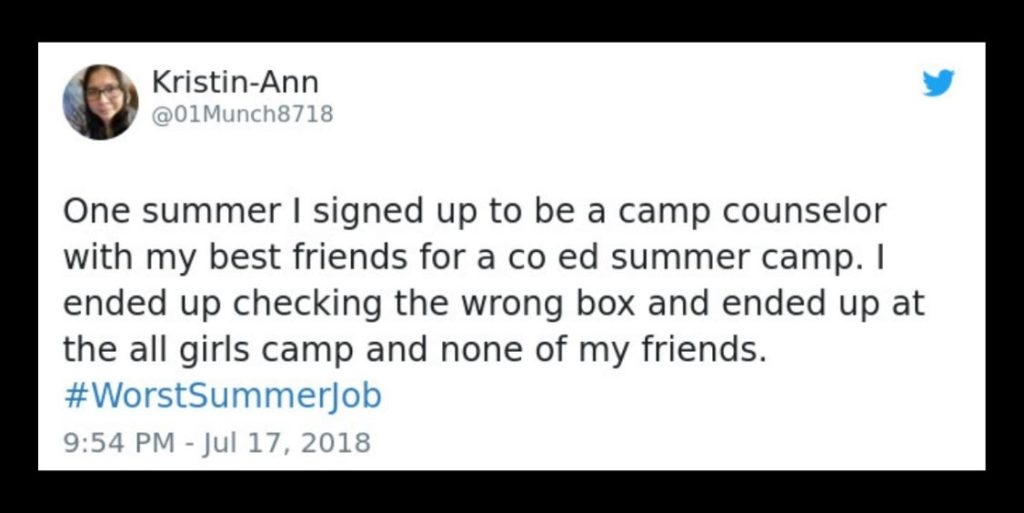 Kristin had an unfortunate event when she and her friends wanted to work as camp counselors together. She ended up being in a different camp when she ticked the wrong box and ended up in the co-ed camp instead of the all-girls summer camp. Yikes.
The Internship
Internships basically mean that the company you work for tells you what to do, and you don't have an actual say in the work. Easy right? Well, not really. Ben interned at a baseball complex and had one of the worst summer jobs of his life.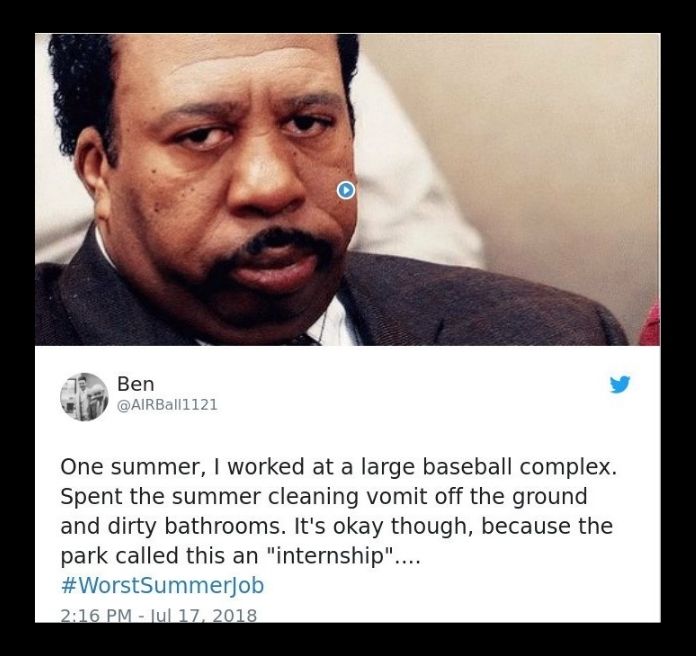 Cleaning vomit was the sole purpose of his job. Who vomits so frequently at games that they need someone just to clean the mess? Now, this is something new! Hopefully, Ben learned that maybe before he joins an internship or future job, he should probably ask what the responsibilities will be.
Unwell
Working at a hospital is intense work that requires you to be on your toes full time. If someone's sick or in need of help, you need to be their first person of contact. If not, then their lives could be in danger. Kaitlyn got a complaint from a patient saying that she looked apathetic. It wasn't the apathy or lethargic bug kicking in.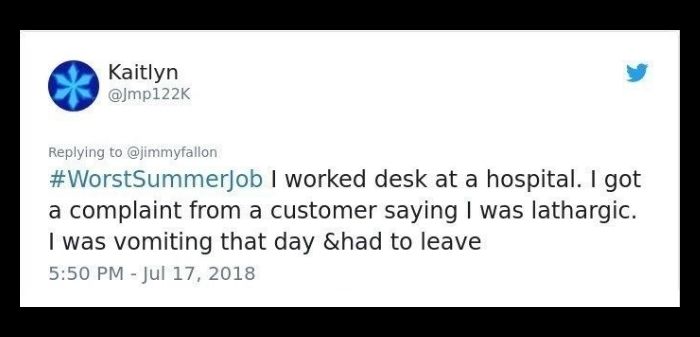 It was more of the flu, and she couldn't hold her post at the job because she felt really ill herself. Whenever you feel extremely bad at work, it's important to excuse yourself, and Kaitlyn should've politely excused herself, so people won't think she looks unapproachable. Listen to your body before you carry out work, it's vital.
Insulation Mess
Lost in translation is the definition of this job, and Trinity had a difficult time conversing with people who didn't speak the same language as her. The story starts in a fraternity house, a random location for people to work at especially as a woman.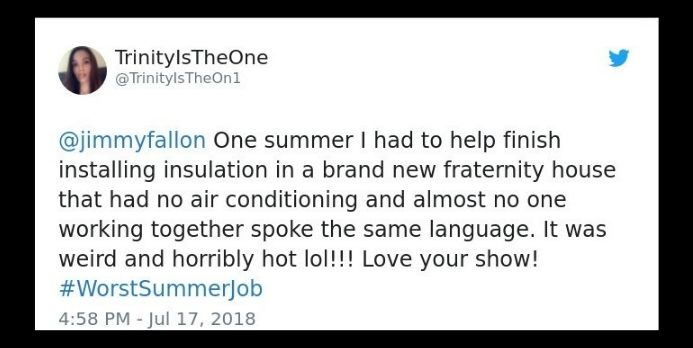 She worked in the insulation department and the people in her team barely spoke the same language as her. It can be challenging to talk with people outside of your culture, but it's also a great way to learn new experiences and make new friends!
Walking Mess
What's worse than having a job walking a dog and it suddenly had an accident? Rebecca had a tough time when she took a dog walking job when she was 14. Dog walking seems like an easy job. Walk the dog for a few blocks, pick up its doo, and you're all good, right?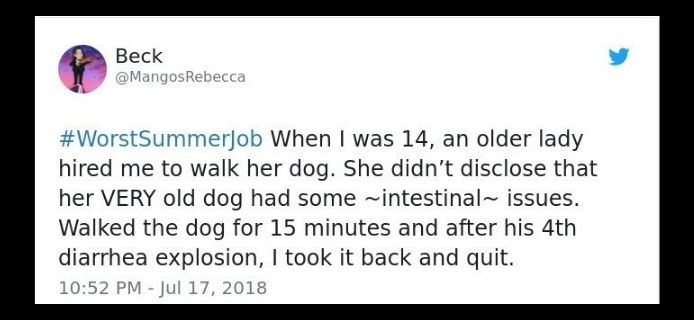 Wrong. Some dogs have horrible intestinal issues that can happen at any time, among other illnesses. When taking on this kind of job, it's important to ask the doggo owner if his dog has any pre-existing illnesses before accepting. Just to make sure you're well-aware of what you are getting yourself into so that it doesn't catch you by surprise.
Metal Explosion
This metal explosion isn't a reference to metal music being explosive and cool. It's about actual metal exploding in someone's microwave. Putting metals of any kind in the microwave is exceptionally unsafe and a well-known no-no. Metal contains a multitude of electrons that when it comes in contact with the heat of the microwave, it can overheat and catch fire.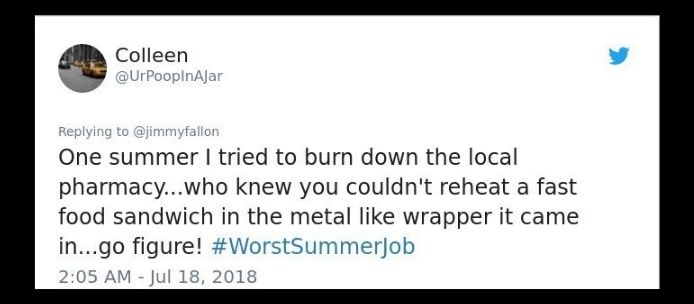 No one wants this to happen in their home. Colleen had no idea that this could occur, and she placed a sandwich wrapped with a metal covering in the microwave and kablam! Chaos ensued. Next time, she should do a bit of research on microwavable friendly materials. And to make sure the packaging or containers have a microwave-safe logo just to be safe.
Serious About Chicken
Ushers at movie theatres don't have it that easy. Cleaning up after people after a 3-hour movie means they'll be cleaning up whole meals instead of the usual coke and popcorn combo. Samantha was in for a surprise during her shift.

Usually, people leave a few trays of food, some loose candies, or even spilled juices on the floor. What caught her attention was an entire rotisserie chicken lying on the floor. It looks like someone wanted to reward themselves that day! That was pretty random.
Smells Like Oil
Working in a restaurant or any kind of food stall will make you sweat profusely. Kaylee tried her luck working at a local snack shop as her summer job, and it was an interesting and sweaty experience. She was surrounded by grills and no proper air conditioning in her place of work.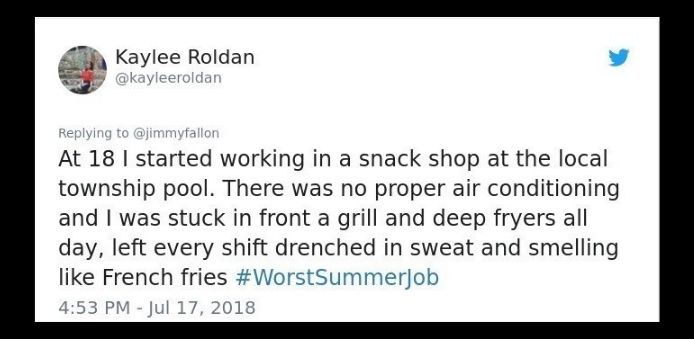 In no way was it a pleasure to work there, and the smell of french fries wafted in the air. If we were in her position, we'd take at least two showers a day. Seems like a greasy job that calls for a repairman to fix the air conditioners to make it more bearable at the very least.
The Dreaded Wall
No one looks forward to micromanaging. This can stunt work and also give your employees the feeling that you don't trust them. In no way is this the ideal set up for most people to thrive at their job. But for others, they prefer to be micromanaged to make sure the work they're doing is on point, and nothing's wrong. Majeed got tired of his boss putting notes on the walls as updates and started to dread it when he would see them everywhere.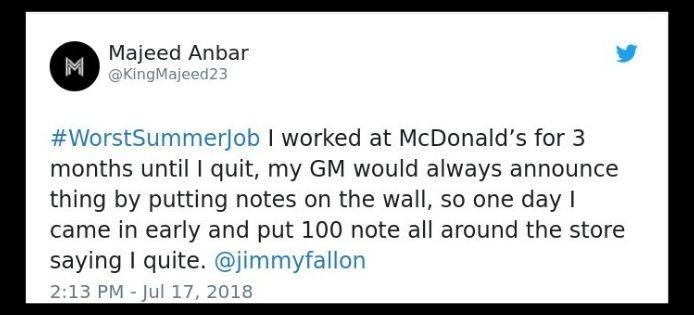 On his last day, he covered the wall in "I Quit" notes to prove a point. That point is that those notes are horrendous and an inefficient way to let your employees know what's going on. Hopefully, his boss learned something from Majeed. Power on, Majeed, and good on you for sticking it to the man (or woman).
No Love for the Captain
Supermarkets will usually hire a mascot to stand outside and promote their products. They often wear a costume befitting of the brand and stand outside, looking enthusiastic while handing out flyers. This job requires tremendous patience.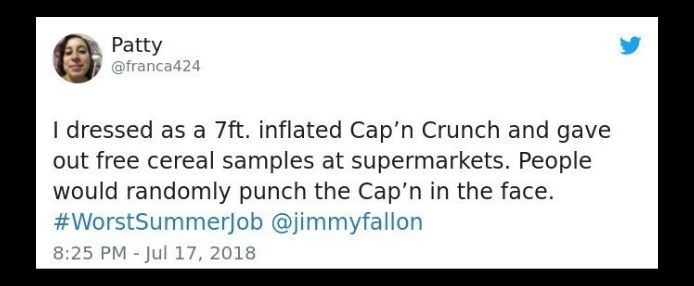 Patty had a lot of tolerance to endure this summer job. She shared her story of dressing up as Cap'n Crunch himself and giving out free cereal samples. Only to get punched in the face. Several times in fact. She must have really needed that job! You deserved better, Patty.
Wrong Files
Copying papers means checking them first to make sure you are working on the right one. You could spend hours copying papers, but if you get them mixed up, it'll be hell to redo the entire task. Nony had to endure the task of recopying papers since she messed up.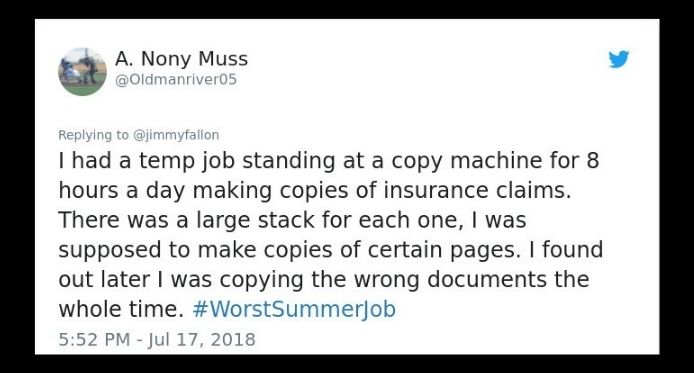 She was tasked to only copy specific documents. This task is harder because you'll have to make sure to check every single one. Jobs are much easier when you have a lot of patience. Unfortunately, she lacked concentration in the beginning and had to pay for it later by doing twice the work.
Here to Check
Census checkers help ensure that the data in the system about people is correct. For example, the Bureau will ask you questions about your household, how many people live there, and so forth. It is a job that requires a lot of repetitive question asking.

If for example a pandemic strikes, census checks help to ensure that numbers of the population are accurate. Anita's job was to ask people how many lived in their homes. As strange as this question is, it helps gain vital information. While she might get weird stares, in the beginning, the question was for the greater good.
Overbearing
As a manager, it's really important to check the quality of your employees' work. Daily updates are also part and parcel of any job and it helps keep companies manage the workflow and ensure everyone is doing their job. The only problem here though is the extreme micromanagement.

Billy's boss was all up in his business and his coworker's, too, when he insisted on checked in on them every 5 minutes. Now that's what you call controlling. It seems that he doesn't trust his employees, and this is a recipe for disaster.
Playing With Fire… Works
Playing around with fireworks is not a game, and it should be taken seriously. Many people get injured every year, especially on New Year's when everyone sets off fireworks. We're not sure how this guy got employed, seeing he was just a kid working with flammable materials.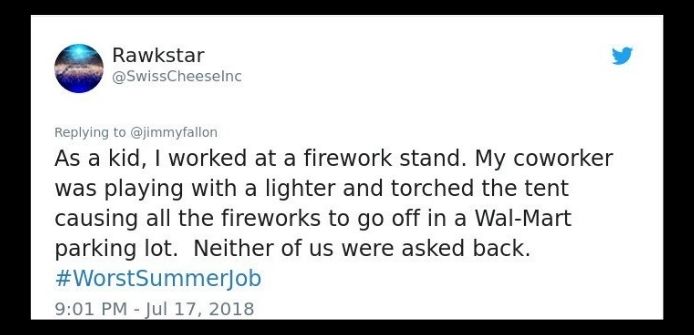 His coworker decided to mess around with a lighter, out of all things! And accidentally torched the tent. Even though the person telling this story wasn't the culprit, he was still involved in the firework explosion. They both lost their jobs that day.
I'm not Wrong You Are
There's no right or wrong way to lick stamps. As long as you've got something to bind to the sticky part, then you're all set. Tam took on the job to lick stamps as part of her summer job, a unique job that many people wouldn't typically consider.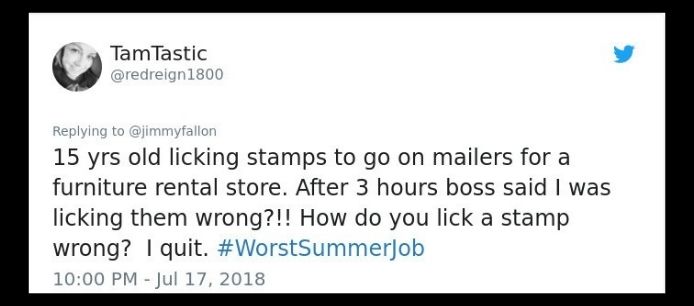 Even though it might seem easy, the only hard part of this job was her boss' demands. Apparently, there's a right, and in this case, a wrong way to lick stamps and Tammy wasn't having any of it and decided to quit instead of arguing with her boss. Good on her!
Gross
Working with kids also entails working with every animal that lives on and inside their bodies like ringworms and lice. If you find this gross, don't worry, kids are more prone to these creepers than adults. Since kids are usually crowded together, it's more easily spread among them.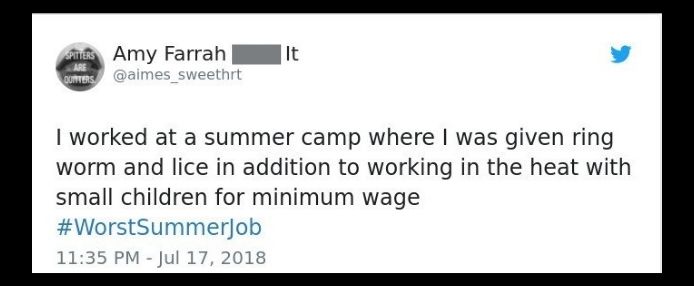 The trade-off was that Amy was getting paid a minimum wage job for it. In no way was it a good idea because not only did she earn a small salary but she also had to deal with these unpleasant conditions on herself—no pros at all in this job just cons. Summer job fails indeed.
The Haunting
For some people who live and breathe horror movies, working in a large cemetery doesn't sound so bad. You can stay up late, listen to a crime podcast, or even walk around and imagine all the lives the people had before they passed.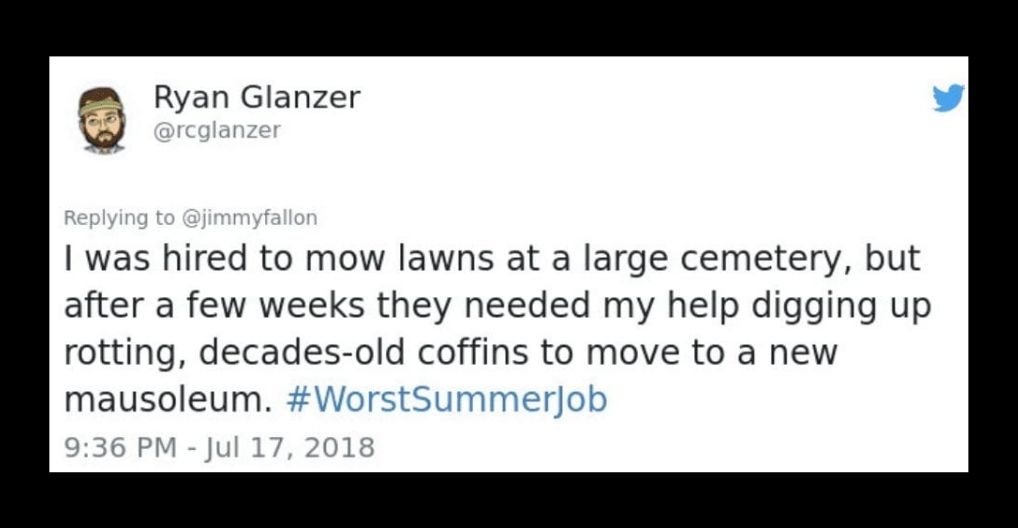 Ryan had to mow lawns in a cemetery, which doesn't sound too hard right? Things took a turn for the worst when he had to dig up rotting coffins to move to the mausoleum. They should've included this part when advertising the job. From mowing lawns to moving coffins, sounds like a different job description for sure.
Student Ate the Card
It's tough being a librarian. Students return books late, and sometimes books go missing for weeks on end. Other times, kids can make a bunch of noise, and it's hard to get them to pipe down. And other times, they eat their library cards.

Wait.. what? You heard that right. Chelsea shared her experience of being a librarian for her summer job, and that work taught her that kids could be strange creatures. Although she didn't leave her job cause of that, it's a story worth sharing.
Whoopsie
Liquor stores are such unexpected places. You think you know what's happening around their premises, but no one truly knows. You start your first day on the job and notice customers are pouring in literally. A drunk guy manages to catch your attention.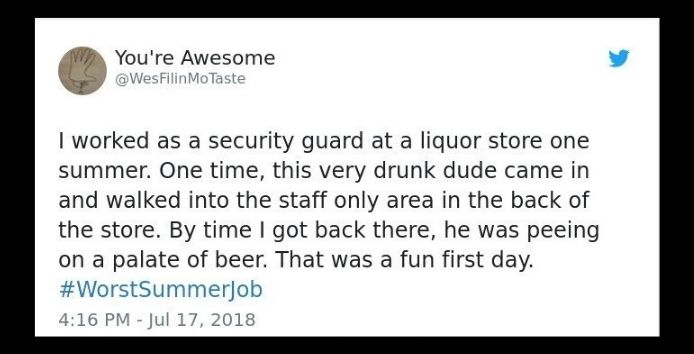 He's unfazed by the people around him and his actions. He decided to use the bathroom differently. Instead of going to the actual restroom, he used a palate of beer. It looks like they need to update their policy on allowing drunk people in.
West Virginia
Karaoke is a wonderful way for you to sing your lungs out without caring about what other people think. Why? Because the machine will always tell you your score and remind you that your singing was 99% amazing. Unfortunately, Katina thought the people's voices should have had a 5% score from the karaoke machine.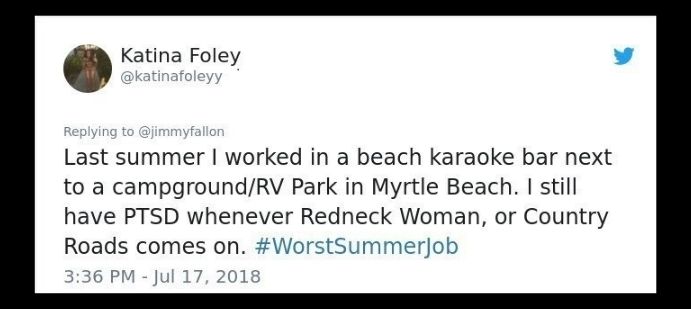 Country Roads and West Virginia are two of those songs that have withstood the test of time. People still sing them whenever they can, and until now, they were a joy to hear. Everyone seems to know the lyrics and can't get enough of them, everyone except Katina, that is.
Water Park Nightmares
Water Parks are great when you're one of the people enjoying them. Mary was the one serving them and making sure everyone stays happy and well. Being the worker at water parks means you don't get to enjoy the experience the way the guests are.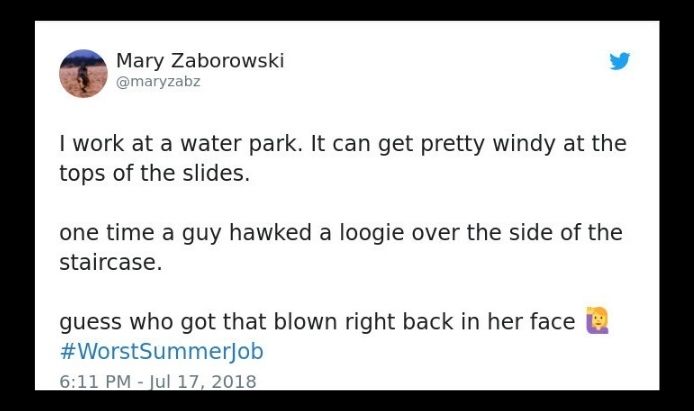 One day as she was working at the top of the slide, a gust of wind blew towards her direction. Someone's saliva was hurtling through the air and heading straight for her. You can imagine what happened next. Mary confesses that this was definitely her worst summer job.
Wet Burritto
Burritos are one of the best foods out there. They're wrapped in a warm and fresh tortilla and usually dripping with guacamole and salsa. Or, aimed at people's faces in this case. Jonathan had a nut job of a customer who doesn't mind throwing food around…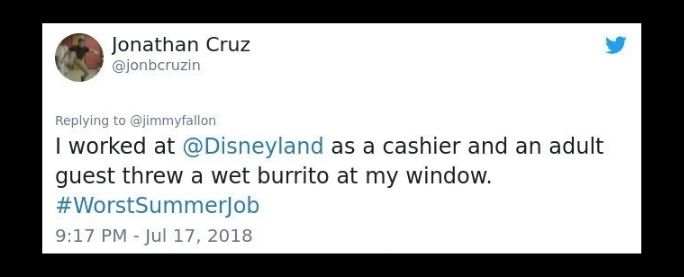 At people's faces. Who does that? Only an animal would do that. Maybe he was having a bad day, but still, that's not cool at all. Poor Jonathan wasn't expecting a rice-filled slap on the face. And a wet one at that.
Tractor Dazed
Dazed and confused are the words most commonly used to describe this farmer's job. His life's purpose is to go around his family farm and home. The same place where he lives and breathes every day. It's a never-ending cycle. First, you wake up; then you jump on the tractor.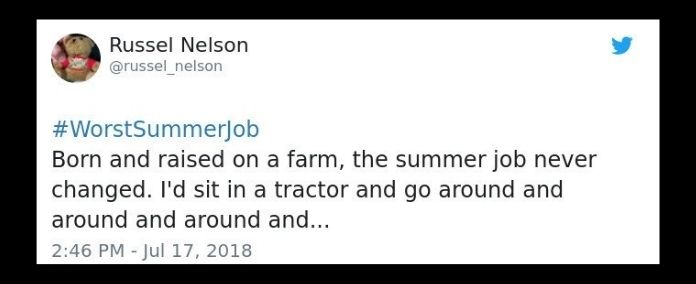 Around you go until the end of the day, then you take a cold shower to wipe the grime before dinner. You eat, sleep, and do the exact same thing the next day. It sounds like a rigid routine that doesn't allow much flexibility. A forever summer job. Dun dun dun!
$1 Pay
Being young means that sometimes adults can feed you misinformation, and you won't ever honestly know. That can be nasty, but sometimes their goal is to teach us a valuable lesson. The only way to learn the value of hard work is to do it.

Sometimes we had to do things for free, especially when we're working our first job. That includes going through tough bosses, like your father. Angel's dad offered him a job with a catch. $1 an hour. Talk about budget cuts!
Cheese Situation
Grating cheese is an art- so is making sure that the grater doesn't fall into the plate of food. Rossi was a waiter at a restaurant and was trying his luck at grating cheese on a bowl of spaghetti right there at the customer's table.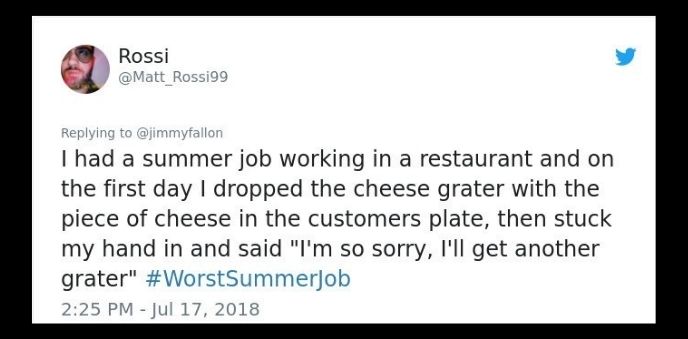 His job wasn't that difficult, but he managed to drop the grater into the food. It happens! Especially after doing it for hours on end. He said he'd get another grater, eh he means cheese. Waiters need to be professional since they're the face of the company. But some people just aren't meant to serve.
Llama Drama
Taking care of llamas for a summer job sounds like a cinch, right? The cute little animals are soft and gentle in appearance. They can't be mean-tempered, can they? Llamas are adorable looking animals who are known to be herders and very polite creatures.

Another cool fact is they're quite smart and really social. The only thing was, the llama at Ron's summer job wasn't feeling social. He quickly turned Ron into his enemy by spitting in his face at every opportunity. Talk about disrespect! This llama needs to learn some manners.
Cat Lady
William worked for an official crazy cat lady and when we say that, we actually mean it. His summer job story is a weird one and sure takes the cake for being one of the strangest stories we've heard. Someone apparently paid him .50 cents to catch all the cats around her home.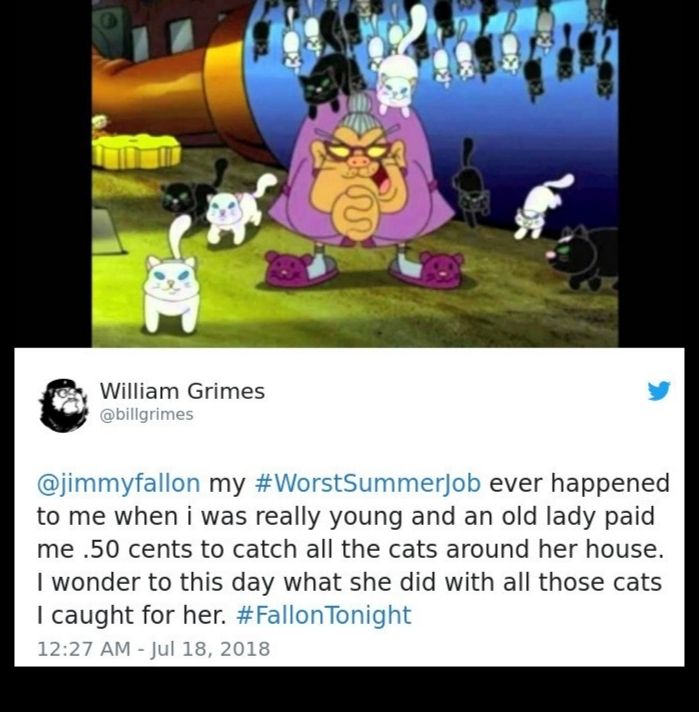 After catching them, he brought them to her, and what happened next remains a mystery from then on. Did she keep all of them as pets? The question remains unanswered Maybe she did and in the end, she assigned them each individual chores to do around her home
Uncle's Wishes
Sometimes having relatives means going out of your way to help them out. Not because you necessarily want to- but blood is thicker than water and sometimes saying "no" is out of the question. Kristen had an odd summer job when her uncle asked her to promote his band.

Promoting his group would be peanuts but the only con is that it was a cover band. Cover's aren't that listened to, unlike original tracks. It's cute of him to make a band dedicated to Earth, Wind, and Fire but what she had to do was borderline embarrassing!