Green Day Invites 11-Year-Old Fan Onstage
By Yeshwanth K May 12, 2022
---
Meyer, an 11-year-old boy, came over to the stage with a fierce attitude and put on an Epiphone Les Paul Melody Maker for that high voltage performance.
As live music gets back on track, heart-touching stories of the talented kids assisting their electric guitar heroes on stage performances are also surging in places filled with wonderstruck audiences. These youngsters are performing extraordinarily on the stage, making them look like the real deal.
Inspired by Lauren joining Foo Fighters' performance of "Monkey Wrench," Green Day also implemented the thought of having a young music genius on the stage during their live performance. Green Day invited Meyer to come up and perform with them.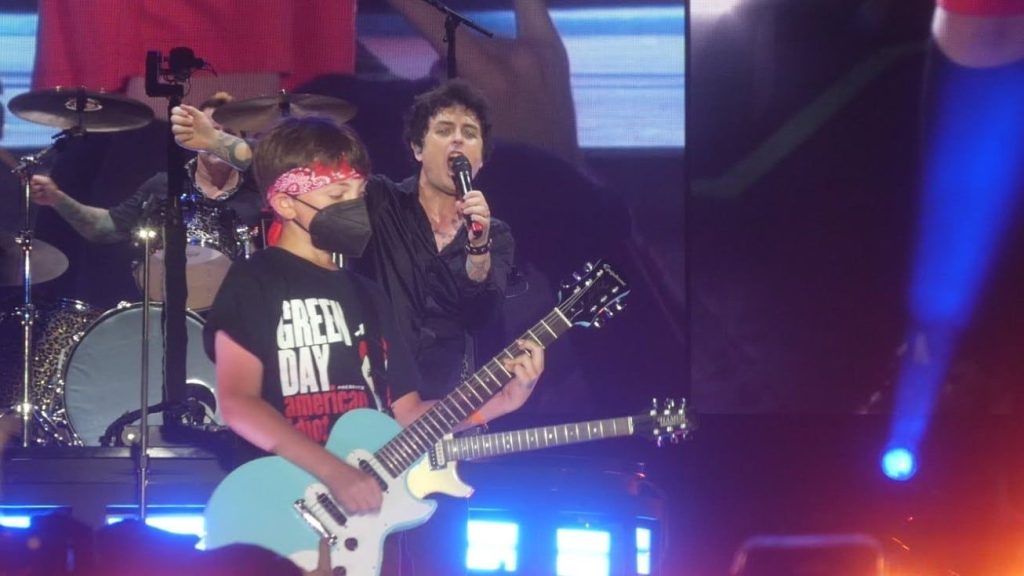 According to Mike Gordon, who wrote a comment on YouTube, Meyer was practicing through the pandemic while spending a lot of hours to master his talent.
On August 13, 2021, Green Day completed half of their performance of "Operation Ivy's Knowledge," and then they invited Meyer to come up to the stage and perform alongside them.
With an attitude of an easy-going Rockstar, Meyer came to the stage with an American Idiot t-shirt and was asked to perform to the Pacific Blue Epiphone Les Paul Melody Maker E1 with Green Day.
After having a guitar crash course from Billie Joe Armstrong, Meyer was able to keep up his pace while excelling through his D, C, and G power chords.
When the live music event came to an end, the bass guitar player of Green Day, Mike Dirnt, joined Meyer. Armstrong, on the other hand, was responsible for bringing the happenings to a finish. Armstrong also gave Meyer some choreographed instructions, and Meyer also got to keep the guitar for himself.
Meyer stated that Green Day was his favorite group, and he also loves others like Nirvana, Smashing Pumpkins, Foo Fighters, Blink 182, etc. This is a real-life example that makes it clear that determination and dedication towards a thing can make a person's dream come true.
Meyer's father Mike states on his YouTube channel that he is very proud of his boy, and at the same time, he is grateful to Green Day for their generosity. Mike Gordon also made the show available on his YouTube channel, where Meyer can be found playing various other songs.
Because of the Covid-19 pandemic, Green Day was not able to have their Hella Mega Tour on time, yet they've started their tour early this year along with other rock stars (Weezer and Fall Out Boy).